ONDA CILENTO Holidays Gourmet Journey 2015 3 days
Discover and enjoy a mediterranean world far from modern stress, time-tables and agendas and dedicate three days to perfect relaxation and recreation for body and soul. Our Individual Programmes offer a lot of time and tranquillity for your personal holidays, but at the same time your personal guide in English language assists you to discover the magic of this landscape, its culture and tradition, and to learn a lot about the mediterrranean diet and the production of its specialties, getting to know and talking with charming pruducers about their passion to create a superb quality of regional cuisine. The Cilento's cuisine often cited as an example of the healthy Mediterranean diet. Follow your palate with our sommelier and feel the health and therapeutic benefits of the Mediterranean Diet.
Some dishes can be traced back to ancient greek recipes. Our sommelier will introduce and improve your palate to the best way of tasting and of valutating the quality of olive oil, wine and other specialties of the landscape. Eat the view walking through the beauty of this landscape and visiting the small producers of traditional Cilento specialities on location. Tasting their products eat the view of this ancient beautiful landscape with its hidden paths which never changed since Basilian Monks escaped from the former Greece (now Turkey) to found the first small villages of the Cilento landscape. more
This beautiful Ancient Aristocratic Manor House "The Happy House" is an historic residence built in 1600. It still belongs to the same family. former 'Lords of the Manor', the small village around founded by inhabitants of Paestum. Facing South, the building presents an enchanting view down to the seaside of Paestum. This ancient architectural structure still has perfectly fine arts restored original stables and mangers, oil-mill, cellars and bread ovens, as well as watch-towers and embrasures along the walls. The ancient water reservoir, located in the garden by the well–spring, has been turned into a swimming pool with hydromassage. The halls, library, antique furniture and panoramic garden overlooking the Valley of the Temples, make it a small jewel in the National Park of Cilento (under the Superintendance of UNESCO). One Suite, five Double Bedrooms, two Family Rooms (four beds per room), and an Apartment with kitchen facilities are available. There is a Dining room, TV room, ample outdoor spaces, open Gallery with frescoes, panoramic Terrace, Garden with orchard, Swimming Pool, and a small Gym. Special attention is given to breakfast.
The evergreen National Park Cilento with Sea and Mountains in perfect harmony invites to discover and enjoy its beauty in every season. More than 180 000 acre of intact nature, WWF-protected and part of the World Heritage Sites. Fascinating in its originality and variety of flora and fauna. Mountain hinterland (foothills of the appenines) with small faraway villages in rare natural beauty where time seems to stand still and habitants grow most of their produce in their indipendent traditional way, creating handmade products often based on ancient recipes and of very high quality. Discover and enjoy the scenic natural beauty and walk to visit small pruducers Enjoy for the rest of the day your surroundings individually, even going down to the famous Paestum Greek Temple Site with sandy beaches stretching for about 10 miles behind, relax and have a swim.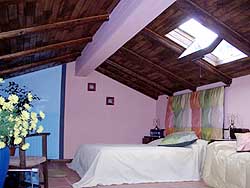 All Rooms have ensuite bathrooms. Have a view over the Valley or on the town, some with air conditioning,
TV and are decorated with antique furniture, there are double rooms, quadruple rooms and an apartment with kitchenette.